Complete GPR System for Concrete Inspection and Analysis
StructureScan Optical™ has revolutionized 3D data collection by simplifying an often complicated survey process while providing the most versatile GPR solutions in the industry. StructureScan Optical is the only concrete inspection tool on the market with optical barcodes and patented Smart Pad technology for simple error-free scanning.
Typical Uses
– Concrete inspection – locate metallic and non-metallic targets in walls, floors and ceilings
– Structure inspection – bridges, monuments, walls, towers, tunnels, balconies,
garages, decks
– Condition assessment – map relative concrete condition for rehab planning
– Measure slab thickness
– Void location
Locate Targets
– Obtain accurate GPR data results on concrete structures
– Locate rebar, tension cables, conduits (PVC and metal) in real-time
– Ability to cross-polarize antenna for additional data in locating PVC and conduit
Acquire Data
– Data is displayed in simple planview on a high-resolution, color screen
– Instant 3D data collection
Deliver Results
– Simplify data collection using Smart Pads with optical bar codes
– Varied data collection pad sizes offer maximum flexibility
Value
– Affordable, turnkey solution
– Two-year warranty
StructureScan Solutions
What Makes StructureScan Optical the Best?
Application Specific Concrete Antennas
– Get the best results based on your jobsite needs. The StructureScan Optical is offered in two versions, a 1600 MHz and 2600 MHz antenna—making it the most versatile system in the industry.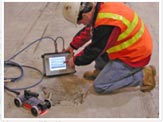 Smart Pad Technology
– Data collection pads with barcodes that work in conjunction with an optical barcode reader to reduce human error and provide accurate and reliable data
– Multiple data collection pad sized for maximum flexibility on job sites -1'x1', 2'x2', 2'x4'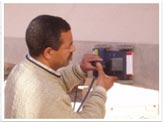 Detailed Training Program
– Multiple training locations offer added convenience— choose a facility that works best for you, GSSI Headquarters, GSSI West or let us come to you with our on-site training
– Real-world scenarios combine learning the basics of GPR concrete scanning with timesaving techniques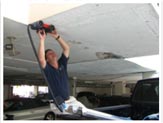 Locate Rebar
Concrete and construction professionals use StructureScan Optical to safely locate structures within poured concrete prior to drilling, cutting or coring. Take advantage of locating targets in real time, with only single-sided access required.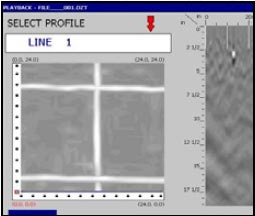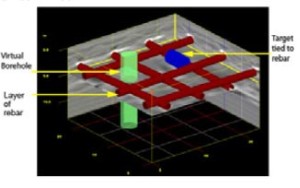 3D data set (above) showing rebar mat 6 inches on center
with a target (labeled in blue) attached to a piece of rebar.
3D data from field (left) – result showing rebar mat.
Establish Location and Depth of Post Tension Cables
Determine post tension (P.T.) cable draping characteristics through accurate 2D depth imaging with the StructureScan Optical. Avoid costly repairs and potentially dangerous events by locating post tension cables prior to cutting or coring work.
Determine the Thickness of a Concrete Slab
Contractors and engineers alike use StructureScan Optical to determine the thickness of suspended or on-grade concrete slabs.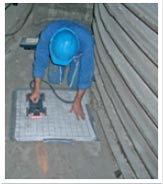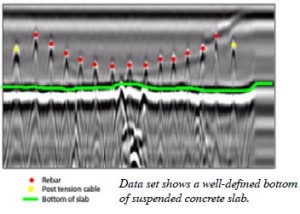 Simple to Use – Get 3D Results in Minutes
1. Set Optical Smart Pad on concrete surface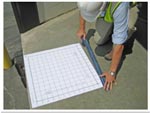 2. Collect data with the Optical antenna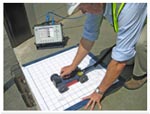 3. View and interpret data results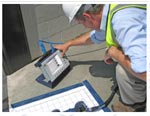 StructureScan 1600 MHz – General Purpose
With a depth range up to 18 inches (0.5 m), the 1600 MHz system offers a great balance between data resolution and depth penetration in concrete.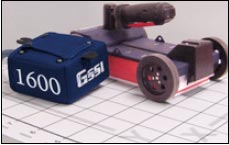 StructureScan 2600 MHz – High Resolution
With a depth range up to 12 inches (0.4 m), the 2600 MHz system offers the highest frequency GPR antenna in the industry. The higher resolution provides clear, easy-to-interpret data images and makes complicated job sites less obscure.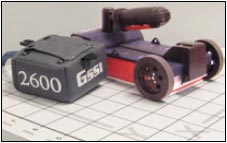 System Includes
• SIR-3000 control unit
• 1600 MHz or 2600 MHz antenna
• Optical hand cart with handle
• 5-meter control cable
• 2 batteries
• Battery charger
• Custom transit case
• AC power supply
• Smart Pads (sample pack)
• Smart Pad tape
• Training (at GSSI: NH or CA)
Control Unit Specifications
• Image Capacity: Internal: 500 2'x2' data images
• External Memory: Based on Compact Flash size
• Internal Memory: 2 GB
• Data collection pad size: 1'x1', 2'x2', 2'x4'
• Display: 8.4 inch, full-color, 800×600 resolution,64K colors, clearly visible in sunlight
• Post-processing: On-screen
• Battery: Internal (3 hours), 10.8 VDC
• Ports: RS232, Compact Flash memory, USB master & slave
• Environmental: Water-resistant
StructureScan Optical Options
• 1000 MHz antenna
• 2000 MHz Palm antenna
• 12 VDC power adapter
• Utility survey cart
• SIR-3000 stand
• SIR-3000 personal carrying harness
• RADAN™ software for postprocessing on customer's PC
• Structure Identification module
• Interactive 3D module
Concrete Inspection Antenna Solutions
2600 MHz: High-Resolution Antenna
The 2600 MHz is an ultra-high resolution antenna used to inspect concrete structures to locate embedded rebar, post tension cables and conduits. Depth Range: to 12 in (0.4 m)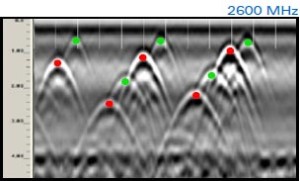 1600 MHz: General Purpose Antenna
The 1600 MHz is a high-resolution, all-purpose antenna used to inspect concrete structures to locate embedded rebar, post tension cables and conduits. It is used on bridge decks for condition assessment and to determine concrete cover. Depth Range: to 18 in (0.5 m)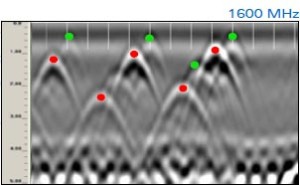 1000 MHz: Deep Penetration Antenna
The 1000 MHz antenna represents the state-of-the-art in shallow earth or deeper concrete imaging. This antenna is appropriate in areas where higher frequencies do not provide adequate penetration and lower frequencies do not provide acceptable resolution. Depth Range: to 24 in (0.6 m)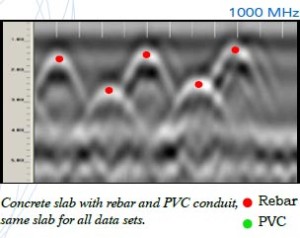 2000 MHz: Palm Antenna
The new Palm Antenna offers users the ability to reach tightly spaced areas that were previously inaccessible such as corners, against walls and around obstructions.
The Palm Antenna is compatible with the SIR-3000 and SIR-20 control units. The antenna includes a dedicated survey wheel, a replaceable skid plate, and removable handle to reduce antenna height, if necessary. The Palm Antenna weighs in at approximately one pound. Depth Range: to 12 in (0.4 m)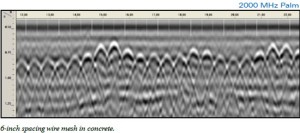 Software Solutions: Structure Identification
RADAN Software
RADAN™ is GSSI's post-processing software. With its modular design, this program allows users to select the processing functions that best suit their needs.
RADAN is Windows™ based, providing a familiar and easy-to-use environment for all levels of experience.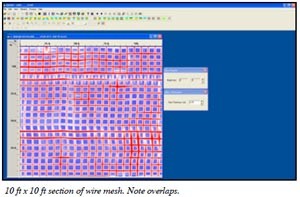 Get More from Your Data with RADAN's Structure ID Module
RADAN's Structure ID Module provides powerful features for processing GPR data from GSSI'sconcrete inspection systems. Features include:
User-Friendly Interface
• Built for all levels of experience- RADAN's Structure ID Module is a Windows™ based software program that provides a familiar and easy-to-use setting for post-processing GPR data.
• Enhanced and simplified 3D viewing.
Easy Data Processing
• Take some of the human error out of the equation with semi-automatic mapping of rebar
locations and depths on simple concrete structures.
• Interactive mapping of conduits or other subsurface features within concrete structures.
• Semi-automatic mapping of deterioration zones within concrete structures.
Module Versatility
• This module allows for a broad range of civil/structural applications, including structures
with different types of reinforcement. Use the Structure ID Module in other applications to
automatically find point targets such as utility crossings or archaeological features with
lower frequency antennas.
Generic ASCII Output Files
• Permits simple integration with spreadsheets or other programs.

Help Feature
• Help feature includes key information, several "how to" guides, index and search feature.