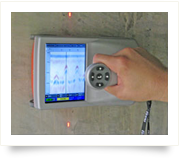 The StructureScan™ Mini is GSSI's all-in-one GPR system for concrete inspection. This hand held system locates rebar, conduits, post-tension cables, voids and can be used to determine concrete slab thickness in real-time.
The StructureScan Mini safely locates metallic and non-metallic targets within concrete structures up to a depth of 20 inches. The system incorporates an auto target feature that marks the detection of features of interest. This function also estimates the depth of targets and automatically adjusts the depth scale.
The StructureScan Mini is offered in two versions— the original or the StructureScan Mini with 3D.
Typical Uses for StructureScan Mini Include:
– Concrete inspection – locate metallic and non-metallic targets in walls, floors and ceilings
– Structure inspection – bridges, monuments, walls, towers, tunnels, balconies,
garages, decks
– Condition assessment – map relative concrete condition for rehab planning
– Measure slab thickness
– Void location
Benifits
– Locate rebar, post tension cables, conduits (PVC and metal) in real-time
– User-friendly, intuitive navigation
– 3 dimensional images: simplified data collection and provides easy-to-interpret data images
(StructureScan Mini 3D)
– No site hazards or need to close off work areas as with radiography (X-Ray)
– Built-in automatic target detection software
– Automatic depth calculation
– Four wheel drive survey encoder
– 2D data is displayed in simple plan view on a high-resolution, 5.7 inch color screen
– Locate and mark targets quickly with backup cursor feature and innovative laser positioning
– Lightweight and simple to transport, all-in-one unit weights about three pounds
– Easy data transfer to flash card
– Durable components that have been tested to be dust proof and water-resistant
(IP-65 rating)
– 2-year warranty
Data Example
StructureScan Mini 3D Data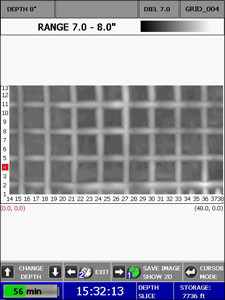 StructureScan Mini 2D Data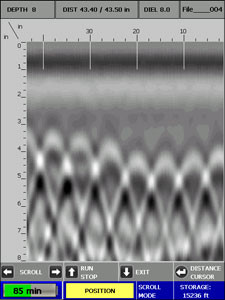 Rebar Mat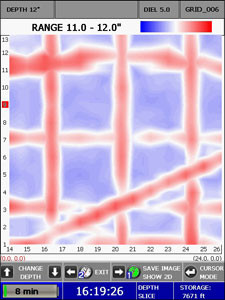 Rebar Mat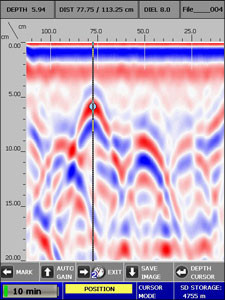 PT Cable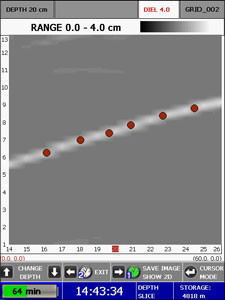 PT Cable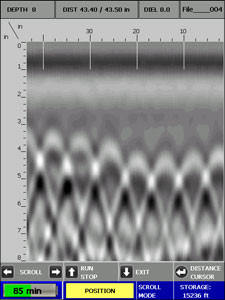 Specifications
Systems Include
– All-in-one control unit, 1600 MHz antenna and survey wheel combo
– Dual battery charger
– Two batteries
– Rugged carrying case
– Quick Start Guide
– Training Video
– Sample 3D data collection grid pack (StructureScan Mini 3D)
Specifications
– Memory: Based on SD card size, default is 2 GB
– Display: 5.7″, full-color
– Post-processing: On-screen or via GSSI software (optional)
– Battery: 2.5 hours
– Ports: SD card, USB port
– Environmental: Water-resistant and dust proof (IP-65 rating)
– Languages: English, Spanish, French
– Weight: 1.6 kg (3.3 lbs)

RADAN™ 7
RADAN is GSSI's post-processing software for GPR data. With its modular design, RADAN allows users to select the processing functions that best suit their professional needs. RADAN is Windows based, providing a familiar and easy to use environment for all levels of experience.
The RADAN software features bold and intuitive menu screens and clear data views for easier interpretation and enhanced post-processing capabilities.
StructureScan Module
This powerful module allows for easy creation of plan-view slices to aid in interpretation of StructureScan data files.
– Semi-automatic mapping of reinforcement locations and depths on simple concrete structures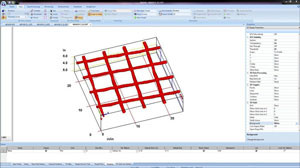 3D Module
Process, view, and document 2D or 3D data with the 3D module, which provides enhanced 3D viewing options in a single dialog box. Users can stretch, shrink or zoom in on files as desired for customized presentation results.
– Interactive 3D mapping of conduits or other subsurface features within
concrete structures
RADAN™ for StructureScan Mini
RADAN for StructureScan Mini is specifically made for the StructureScan Mini Series. It is designed to process, view, and document 2D data collected with the StructureScan Mini.
Features include:
– Copy images to third party software for documentation purposes
– Establish Ground Truth for near accurate depth calculation
– Dielectric calculation
StructureScan Mini Viewer
The StructureScan Mini Viewer software is a free online visualization program for the GSSI StructureScan Mini. The software is ideal for basic post processing of 2D StructureScan Mini data files.
Features include:
– Gain (contrast) control
– Background Removal
– Color Table
– Save/Convert to images